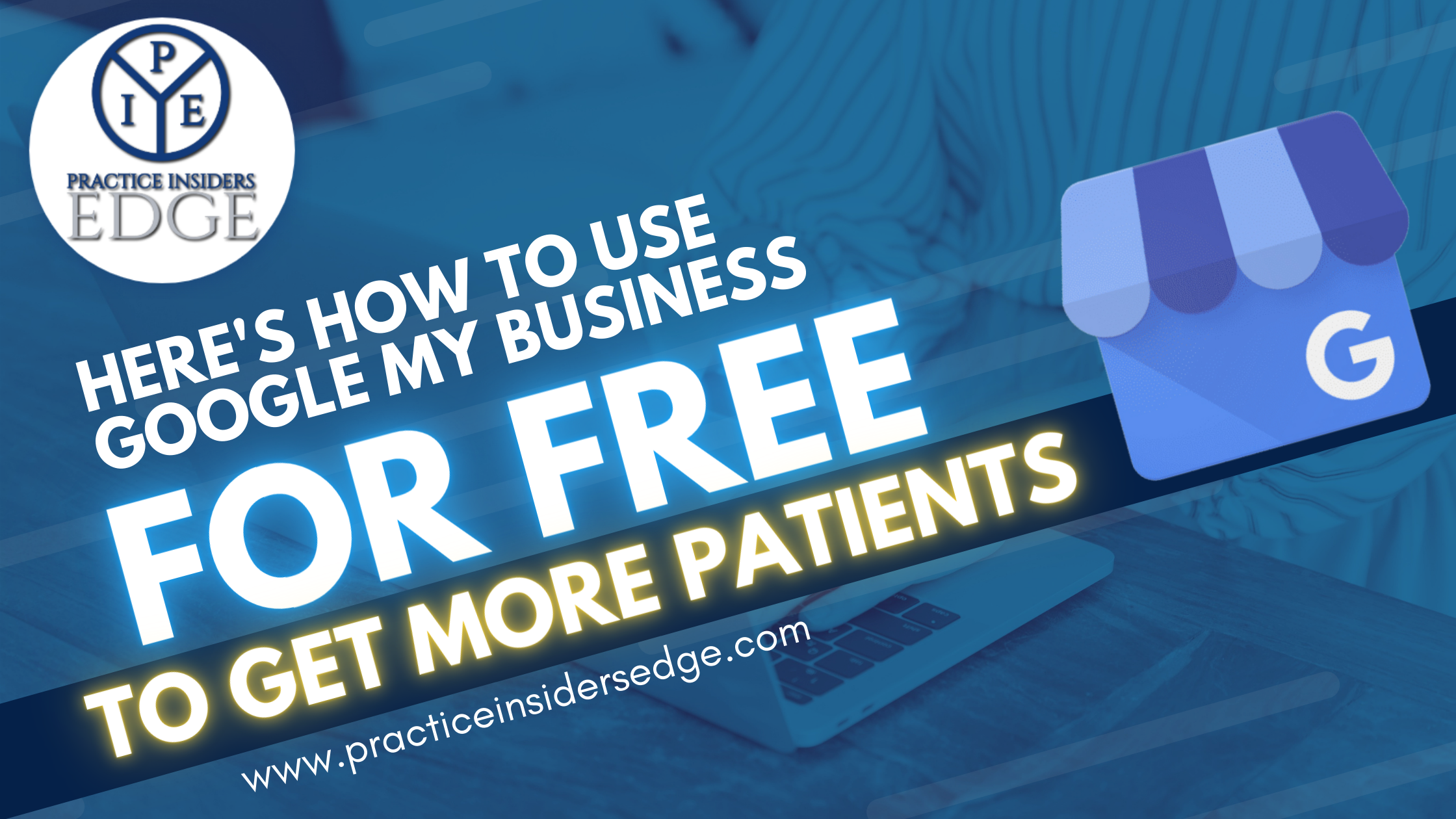 Google! It's a massive search engine and it's become synonymous with searching for information online. It's even become part of our everyday lexicon.
Just 'Google It'! 
If you are trying to give your health care business the advantage and leverage of being found when someone does a search for your type of health care business, it makes sense to use as many Google products as you can!
Google is more than a 'search engine' these days. 
People use Google to navigate and explore their local areas, discover answers to common household problems, painful problems with their body, seek out product and service recommendations by reading reviews as well as writing their own reviews about their experiences with businesses!
As a health care business owner, there is a lot you can do to improve your visibility on Google.
Setting up your Google My Business (GMB) is probably the most advantageous of them all. 
As a side note…it's totally FREE!
What is Google My Business?
Google My Business is a free listing service that literally puts your business on the map!
It was created to help businesses manage their online presence and connect with local consumers/patients.  
Quite literally your health care business gets a location-specific listing in the biggest directory in the world. 
These listings help curious prospective patients discover the important information about your healthcare business, such as your address, online reviews, and where they can find you online!
What are the benefits of Google My Business?
There are a number of benefits to your health care business for setting up and getting your Google My Business listing optimized.
Getting your Google My Business listing set up properly is all about visibility for those closest to your business! 
As a local health care business, you want to get in front of as many prospective patients as possible, right?
The whole idea is to show up in the search engine for your type of health care business locally!
Here are the main benefits of putting a concentrated effort into Google My Business.
Rank better than #1 with the Local 3-Pack
Here is a subtle but important thing worth considering. 
When you search for a local health care business (chiropractor/physical therapist near me), even before the SEO-driven search results come up, Google shows you a list of nearby practices that it considers to be the most relevant to the search. (Read that again)
These results show up on a map, complete with star ratings and all the health care business information that is important to searchers (also known as your potential patients).
Does that get your attention? It should!
The exciting news about this is by filling in your Google My Business profile as much as possible, and getting Google reviews, it will help boost your chances of being included in the 3-pack!
Show up on Google Maps searches
Achieving 3-pack visibility is definitely a great accomplishment but it'll only work for you when the patient is already in your area. 
So that raises a question, "What about when searchers don't happen to be in your local area?" 
Setting up your Google My Business account helps you come up on Google Maps when people search locally.
These days, 86% of people are searching for businesses on Google Maps with 30% of all mobile searches are related to location! 
More searches mean more traffic, which means more sales.
Over 50% of "____ near me" searches result in a visit and a chance for a sale or a new patient!
It's Easy, Fast and FREE!
Marketing and SEO can be complicated, super expensive, and time-consuming. 
Setting up a Google My Business account is a fast and free way to get your health care business found on Google. 
It's easy to update your health care business details so that patients trying to reach you have the right information.
Local SEO delivers great ROI…
Google reported that 46% of searches have local intent! That's HUGE!
That means almost half the searches on Google are specifically looking for a nearby business! 
Within that 46% of searches, 60% of those people are searching from a mobile device, which means the map search result is going to pop up and they are ready to buy.
Leveraging that would be a huge advantage for your health care business!
Build trust and social proof with reviews
It would stand to reason that having (positive) reviews of your health care business would be favorable! 
When someone searches and discovers your health care business, seeing positive testimonials and reviews are a great way to display social proof that your business is reputable. 
We all like to do health care business with those whom we know, like and trust! And patient trust is critical for a successful health care business! Reviews on your Google My Business listing makes your health care business that much more legitimate and trustworthy!
It's been said that 73% of consumers will trust a health care business based on their positive Google reviews!
Access the smartphone market
Do you know how much time the average person spends on their mobile phone?
4 Hours! 
That is a massive amount of time! And a lot of that time is spent searching for businesses!
Over 50% of all web traffic comes from mobile phones! 
Considering that information and the fact that 78% of local mobile searches lead to an in-store purchase, it's clear that a winning formula is literally at your fingertips!
A FREE Website!!
While many health care businesses already have a functioning website, there are so many more that may be just getting around to moving online.
For health care businesses that prefer to sell offline but want to be found on the internet when someone searches for their type of health care business, they can get a Google My Business page set up in minutes!
A Google My Business page is a simple website that shows off your health care business, helps searchers know where to find you.
A Google My Business Page also helps facilitate things like placing orders, sending messages, and calls to your health care business! 
How to start using Google My Business
The best part about setting up a Google My Business listing aside from being Free is how easy it is to do.
To create a Google My Business listing for your health care business:
Head over to Google.com/business (or log in if you already have one)…

The page will prompt you to provide information that makes it easier for potential patients to get in touch such as your phone number, website URL, your clinic address (which will show on the map), business hours, and photos of your clinic…

Make sure to complete your business category…

Click 'Finish' to verify! 

Google will send you a postcard with a code to the address you entered to make sure it's your actual address. 

Don't miss this last step! Once you get the postcard (it should only take a few business days), log back in, enter the code, and you're done!
Is Google My Business right for you?
Some health care businesses don't have a clinic or storefront. 
If you don't want everyone online to know your home address or if you are an online practice, you'll still have to put it in during the Google My Business setup process to get the verification postcard but you can change the settings so people don't see it.
You can choose what information is visible to searchers. 
You can also select the areas you service. 
And this is ideal for health care businesses who want to specify the locations where you offer delivery or if you have a service rather than a product.
As a local health care business, this should sound interesting particularly if you want more customers!
Here's what to do next…
If you want new or more customers, go set up your Google My Business profile today and start tapping into all those extra searches!
By the way, if you need help with this Google My Business stuff and don't want to deal with all the technical aspects, we would be elected to help you.
So… if you are a private practice healthcare business owner and you are looking to grow and scale your practice or generate more new patients for the practice – we are here for you!  Drop a comment below if you have questions or if you'd like to set up a call with us go here: https://chat.practiceinsidersedge.com/PIE-Triage-Call