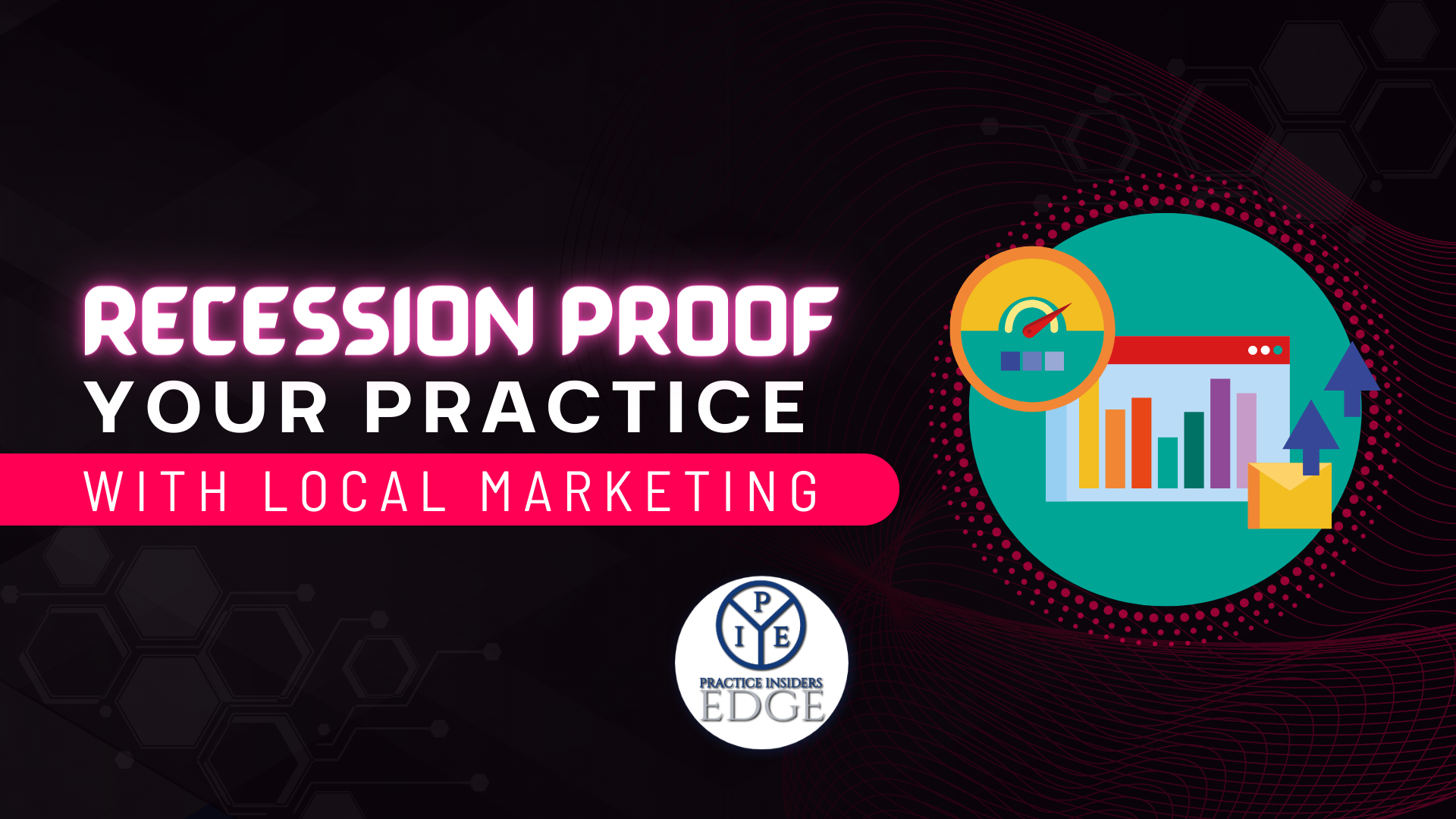 A looming recession doesn't have to be a practice's worst nightmare if they use local marketing strategies.
Seven out of 10 Americans (70%) think that a recession is coming soon. Not all experts agree on when it will happen or even if it will, but there are some signs that it will. There has been a general slowing of the economy, people have lost their jobs, and the Federal Reserve has raised interest rates more than once.
Even if a recession doesn't happen or only lasts a short time, it's better to be ready for the worst than to be caught off guard. Here are some key strategies, that will help local brands stay strong during a recession and do well when the economy starts to get better.
Invest in SEO to Generate Organic Visitors
One of the best ways to get qualified patients is to get traffic from search engines. People who find your site through Google are much more likely to buy something.
During times of uncertainty, consumers are less likely to trust a brand they have never heard of. If your brand is at the top of SERPs, it will help people who are worried about spending money decide that they can trust your brand.
Using what we call the "Content Capital Strategy" is one way to increase organic traffic and rank. In short, it means spending money and effort now on good content that will pay off for your practice in the long run.
Rand Fishkin once compared search engine optimization to the moat around your castle. It's a permanent way to protect yourself. Paid search, on the other hand, is more like hiring mercenaries, who are only as good as their last check. During a recession, this comparison works perfectly. You want a defense system that works all the time. If you have the means to also hire the mercenaries, do both! 
Think Local – Like Your Patients
Even if you sell your brand online and across the country, you might want to put more money into local SEO. Make landing pages for your target markets that are specific to their location to reach more of your existing customer segments.
During a recession, you need to win as many SERPs as possible to be successful. Landing pages that are optimized for "near me" searches can help fill your funnel. If you already have local landing pages, you can make them even better by adding custom content that gives your patients more value.
Also, to stand out, you should make sure your Google Business Profile (GBP) is fully optimized and has the most recent images. Data shows that on average, GBP is responsible for 70% to 80% or more of local conversions.
Improve ratings and reviews
Reviews are a big part of how local search results are ranked. Many practices don't realize how important it is to ask loyal patients to write online reviews. The wheel that makes noise gets the oil.
More people will buy something if it has good reviews. If you don't have a plan for getting reviews, it's time to put your pride aside and ask people to tell you about their good experiences. If you do have one, focus on how good it is instead of how many you have.
Craig Darling of Darling Local says that it's time to move on from the number of positive reviews on Google to the quality of reviews on Google, Yelp, Facebook, and other sites that are relevant to your practice. But if you had to choose one, Google would be the platform to focus upon!
Tell your audience about your deals.
Social media is still a good way for patients to talk to practices. As a possible recession starts to change how much patients spend and as new customer behaviors and segments emerge, platforms like Facebook, Instagram, and TikTok will be great places to share deals and run A/B tests to see what patients like.
You might want to use short-form videos to reach more people. TikTok is a great way to reach out to younger people.
Instagram is also still putting a lot of money into short videos to compete with TikTok (as does YouTube). You can reach new patients who may not have heard of your brand before on both platforms.
Marketing on the Internet and Omnichannel
Covid pushed people to think digitally first, and a recession, which makes people more careful with their money, may keep these trends going.
People will use Google, YouTube, Facebook, TikTok, Instagram, and other sites to find the best deals and best services. Brands that keep investing in these key channels and run campaigns that work well during a recession will be able to take advantage of the digital path to purchase.
Still, people will continue to take what they learn online into the real world. They will often start with a Google search and end with a visit to a store. Greg Sterling points out that retailers and brands will do better with an integrated omnichannel strategy than with an online-only strategy.
Share Service Inventory to Stand Out
As Google continues to try to compete with Amazon in business, it is trying to set itself apart from the leader in online practice. Part of this strategy is to show how to store inventory is available and can be picked up offline in real-time.
Google is trying to add more live services to improve shopping searches. It is also trying to make the checkout process smoother. Google now says in a clear way that the availability of a service in-store is a local ranking factor.
To build on that, Google just announced partnerships with WooCommerce, GoDaddy, and Square that will let their patients show and sell services on Google Search, Shopping, Images, Maps, and YouTube for free.
Brands with inventory feeds should think about using Google's reach and distribution to get an edge over their competitors. As Google tries to compete with Amazon by putting more emphasis on service inventory, early adopters are getting better rankings and more sales.
One Last Thought
When sales start to drop because of a recession, most brands do the same thing right away. They usually start with marketing when they have to cut budgets. But the information we have so far doesn't support this step. In fact, it says the opposite. After a recession, brands that keep spending money on marketing but change to meet new customer needs are in the best position.
Practices, both local and national, that use these strategies and tactics can set themselves up for long-term success.
So… if you are a private practice healthcare business owner and you are looking to grow and scale your practice or generate more new patients for the practice – we are here for you!  Drop a comment below if you have questions or if you'd like to set up a call with us go here: https://chat.practiceinsidersedge.com/PIE-Triage-Call