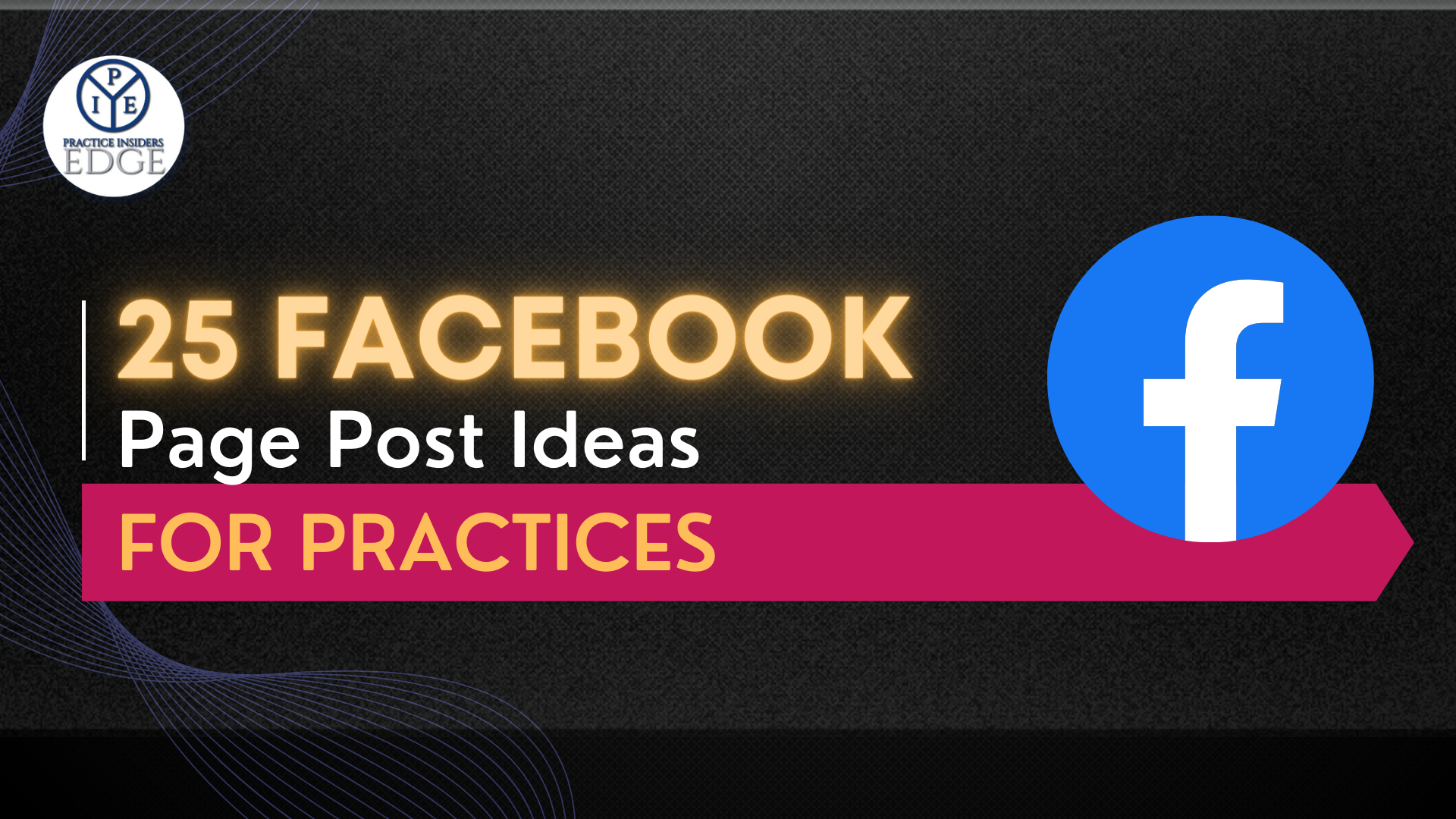 Coming up with content to post on Facebook for your practice can be a challenge. If you're stuck for content marketing ideas, here's a list of 25 Facebook page status ideas to get you started:
Go behind the scenes and share a snapshot or video of you or your team at work.

Explain your day using only emojis, then urge your fans to do the same in the comments.

Share a video lesson – make it something quick that your audience (both prospects and patients) can do at home.

Make your video tutorial a Facebook live – less prep time, more engagement.

Create a poll – everyone enjoys the opportunity to express their thoughts. 

Share the results of the poll you developed, along with your thoughts, reactions, and plans for the data.

Hold a Facebook Live Q&A session – solicit questions ahead of time so you'll always have something to talk about.

Share excerpts from your blog posts – for example, if there are 10 stages to (some outcome), share a single step with a link to the remainder of the information.

Promote other people's stuff that you believe your audience would love, but not your competitor's content

😁

Ask your patients to help you create content by posting a photo of your service in use and providing them with a hashtag to use.  Ask them… "Have you ever had your ankle adjusted? #ankleadjustments

Check out what's trending in your industry and create a video or post about it.

Provide patient feedback in the form of a testimonial, case study, or a photograph of a thank you card. 

Run a Facebook offer – post a temporary deal as an 'offer'…

Hold a giveaway – make sure the prize is something your audience wants, not just something great that will attract individuals from all over the globe who aren't even really interested in your practice.

Create events. Post about it leading up to the event!

Whenever you connect with another practice, make a post about it and tag them in it. Doing so expands your reach!

Hold a Facebook Live series – Hold one live video every day for a week to focus on a specific topic, problem, or goal. 

Schedule a regular Facebook show – Determine a time and day for a weekly/monthly Facebook Live (similar to having your own TV show).

Recycle old posts that have previously worked well – many people will not have noticed it the first time around. These can be social media articles or old blog entries that you can upload directly to your page (rather than linking back to your blog).

Repurpose posts and publish the same information in a different manner, such as a photo, infographic, video, or text.

Share a problem and seek assistance – it might be your problem or one of your fans' (ask them first and give them the choice of remaining anonymous).

Social Media Posts that contain quotations can be inspirational or humorous – and they are often shared!

Share something personal from your life, such as a photo/video/story from your weekend/evening/holiday.

Celebrate a win, milestone, or achievement, such as your 1000th subscriber, 1 millionth page view, or 100th patient. 

Please fill in the blank… …..For example – Every week, I (do this) to take care of myself; my practise e would not be able to function without (this); my biggest productivity killer is (this).
So… if you are a private practice healthcare business owner and you are looking to grow and scale your practice or generate more new patients for the practice – we are here for you!  Drop a comment below if you have questions or if you'd like to set up a call with us go here: https://chat.practiceinsidersedge.com/PIE-Triage-Call