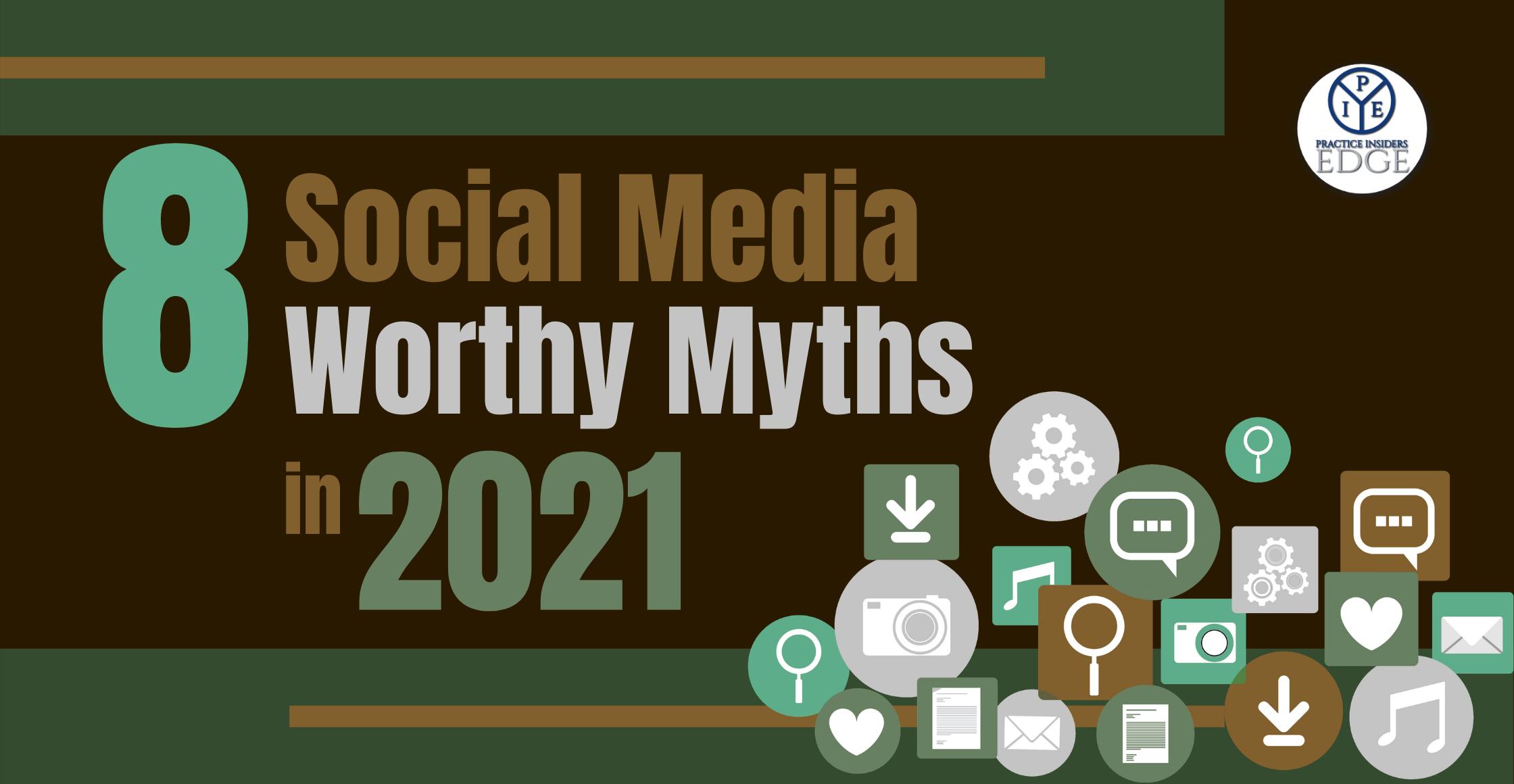 There's no question that social media marketing is, and will continue to be, important for practice. If we hold this to be true, there are also a lot of social media myths that are annoyingly persistent and believing them can hurt your practice.
There are a number of myths that you need to debunk if you want to grow your practice on social media.
#1: You Need a Presence on Every Social Media Site
The notion that you need a presence on every social media site is one of the most harmful myths for healthcare business owners. It takes time, effort, and money to maintain an active presence on ANY social media site and nobody has time for all of them.
What you need is an active and meaningful presence on the sites that offer you the best opportunity to connect with your target audience and engage your patients. Nothing else matters. Most practices should be on Facebook. 
Does this mean you should never try something new? Of course not! Set up a profile and give it a try. But if the site you choose isn't giving you the results you want, cut it loose.
#2: Fans and Followers are Worthless if They Don't Become Paying Patients 
Social media is a great way to attract new patients. But, it can also be a bit challenging for healthcare business owners to use it properly.
A common misconception we hear about is a lot of healthcare business owners who think that followers who aren't paying patients aren't worth having – and that's not true.
Your fans and followers don't need to buy from you to be useful. Having a large following can raise your profile and help new patients find you. If you've got fans or followers who have a lot of clout, you'll get some of it by association. 
Most importantly, a follower who doesn't buy your services could still refer their friends and followers to your practice. You should run ads designed to attract paying patients but don't ignore the benefits of followers who aren't your patients. They're still helpful.
#3: It's Useful to Have Your Friends and Family "Like" Your Posts
Another common mistake healthcare business owners make when it comes to social media marketing is asking your friends and family to 'Like' your posts. It would be more beneficial to find a way to engage with your posts instead!
It doesn't mean that you should tell people not to like your posts. Instead, it means that you should always be asking people to engage with your content and share it with them.
#4: You Shouldn't Schedule Posts on the Weekend
It's a common practice for practices not to share new social media content on the weekend. While it's true that some of your followers might not spend as much time on social media on the weekends as they do during the week, you shouldn't assume that weekend content is unnecessary.
Instead, try scheduling a few weekend posts to see how they do. You can use Facebook Insights or whatever analytics tool you prefer to determine which days and times are the best for posting.
#5: You Must Respond to Social Media Comments Immediately
It's important to respond to a question or leave a comment in a timely manner. But responding in a manner that doesn't drop everything can be very time-consuming.
If you have a social media presence, then you should be sure that your patient support is done quickly. With the rise of Facebook Messenger, practices can now offer their patients a variety of chatbot solutions to handle their needs.
However, a comment that doesn't require patient support involvement can wait a little while for a response. As a rule, try to respond within 24 hours.
#6: Social Media Posts Must Always Be Practice-like
Social media is social first and media second, but a lot of healthcare business owners forget that. Their social media posts are as dry as dust and don't get any engagement. And they wonder why.
Don't be afraid to inject some personality into your social media posts. Even if you offer a professional service, you can still use appropriate humor or compassion in your posts. This is the place to showcase your brand personality. Make sure that anybody who is empowered to post on your social media accounts understands the persona you want to project.
#7: You Need Endless New Content to Post
It's good practice to publish new content regularly on your social media sites. However, there's nothing wrong with repurposing or resharing old content if you don't have time to write something new.
You can also find relevant content by sourcing it from industry publications and influencers. Curating content and offering feedback on the content you are sharing is a great way to position you and your practice as an expert or thought leader on your industry's subject matter.
#8: Social Media Marketing is Free
This final myth is one that I hear often. While it is free to set up a social media account for your practice, you're unlikely to get the results you want without spending some money.
The more you promote your content on social media, the more likely it is that your followers will see it.
The only way you can be sure that your followers will see your most important content is to boost it and or leverage paid advertising. Social media marketing can help you get your content in front of potential patients. The good news is that you don't need to spend much to get the results you want.
The 8 myths I have listed here are all past their prime. Learn to navigate them and you'll see your social media marketing results improve – and your business grow.
So… if you are a private practice healthcare business owner and you are looking to grow and scale your practice or generate more new patients for the practice – we are here for you!  Drop a comment below if you have questions or if you'd like to set up a call with us go here: https://bit.ly/PIE-FB-Triage-Call